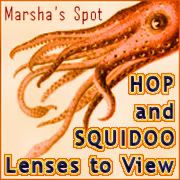 Hello, and welcome fellow Squido Lensmasters! For those who aren't travelling here by blog hop and don't know what
Squidoo
is, it's just a place where you can make nifty little web pages about any topic you choose, and maybe earn a little money for yourself or a charity in the process.
If you Squidoo, and want to help with Japan Relief efforts, you can re-set the payments settings on your lenses to donate to a charities helping with these efforts.
The following Squidoo charities are listed on
Charity Navigator
as places you can give to help earthquake/tsunami victims:
If you make a large amount monthly it might be better to cash out as usual and send in a check directly, as you can designate specifically what you want the money to go toward. But if, like me, you make just a little each month, pooling your money with other Squids donating makes a lot of sense. If you don't currently Squidoo, it's easy to set up a lens for charity. You can do a lens with your favorite recipes, book reviews, craft tutorials, or any other subject you like.
Click here to get started!
I also hope you'll check out my
Shop4Charity lens
, where I have featured several shops donating a part or all of their proceeds to support Japan Relief efforts. While donating directly is best, if you are shopping for Mother's Day or birthday or just for something you need, shopping at a place that donates is another way to help.
---
The graphics shown in this post, except for the Blog Hop Graphic, are all designs donated by Zazzle artists to Zazzle's
Japan Relief Store.