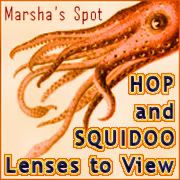 Hello, and welcome fellow Squido Lensmasters! Hope you all had a very Merry Christmas! I really enjoyed this Christmas, though it was busy. But this december I still managed to get a couple lenses done!
First one is a
Scribbleprints Geek Gifts
lens featuring goodies for geeks at my shops!
And the other is one I just finished that I hope you can all help me out with. Remember how there used to be a suggestion section in the Squidu Forums...then they got rid of it? Well, I just made a
2012 Squidoo Wishlist
lens where people can share what they hope will be added, fixed and changed at Squidoo in 2012. I'm hoping if it's popular enough Squidoo staff will take notice! So I hope you'll visit and add and vote on wishes, but also let me know if there's anything you see that might need changing/improving! Thanks!
________________________________________________________________________
For those who aren't travelling here by
blog hop
and don't know what
Squidoo
is, it's just a place where you can make nifty little web pages about any topic you choose, and maybe earn a little money for yourself or a charity in the process.