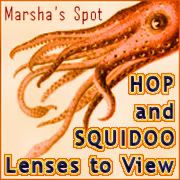 Hello, and welcome fellow Squido Lensmasters! For those who aren't travelling here by
blog hop
and don't know what
Squidoo
is, it's just a place where you can make nifty little web pages about any topic you choose, and maybe earn a little money for yourself or a charity in the process.
The holiday season is upon us, so I'd like to share some of my lenses related to gift shopping!
Here's two shopping lenses I've just added:
Shop 2 Fight Slavery
A lot like my general shopping for charity lens, only just for this cause, with a lot of extra information added.
And more of my shopping lenses:
If you see anything intriguing, hope you'll click through for a visit. Thanks!