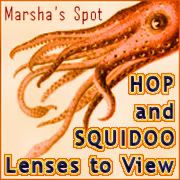 Hello, and welcome fellow Squido Lensmasters! For those who aren't travelling here by
blog hop
and don't know what
Squidoo
is, it's just a place where you can make nifty little web pages about any topic you choose, and maybe earn a little money for yourself or a charity in the process.
This month I've been holding an event on this blog to spread awareness of modern slavery (human trafficking). So, I was so happy to see a new charity on Squidoo that deals specifically with human trafficking:
Promise of Hope
.
See all 10 new charity partners added this month here.
Another charity on Squidoo which has programs dealing with child trafficking is
Save the Children
.
---
Question for Squidooers
Anyone have a Spring Themed Quest? I'm still looking for a lens to like for the Spring Fever Quest. I've already gotten one for the "Grouch" quest. If you need one for that, this might work:
(Lots of Grouching Going On Here)