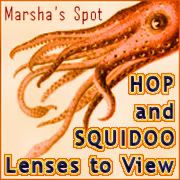 Hello, and welcome fellow Squido Lensmasters! For those who aren't travelling here by
blog hop
and don't know what
Squidoo
is, it's just a place where you can make nifty little web pages about any topic you choose, and maybe earn a little money for yourself or a charity in the process.
Got some exciting stuff to share this week!
I THINK I GOT ON THE FRONT PAGE OF SQUIDOO!
Last month I entered My Nazareth Lens (my only purple star) in the
Purple Star Quest
, a quest you could enter which gave you the chance to get on the Squidoo front page. On Jan 23 squidoo sent a note thanking me for entering and saying to "Stop by the Squidoo homepage during the week of 1/23/2012 to see if your lens was included in the rotation there." On the 23rd I started to get a bunch of likes and comments, and both my lensrank and my hits have shot up. In the last week I got 137 visits (usually get about 20 a week on that lens) and the lensrank, which was up to 12,000 something, is now down to 4,331. So, I MUST have been featured., though I've gone to the homepage gobs of times and can't find it.
NEW LENS AND AN EVENT TO FIGHT SLAVERY!
Some of you know about the event I'm holding here at this blog. It's a
giveaway event to spread awareness of modern slavery
, which affects as many as 27 million people today. One of the extra entry methods I'm offering for my giveaway is to blog about slavery, and I wanted to offer bloggers some resources...so I made
a Squidoo Page
with tips and tools people could use when they blogged about this issue. This is the second Squidoo lens I've made about modern slavery. The first was my
Shop 2 Fight Slavery Lens
. Another excellent lens on this subject (not by me) is
Stop Human Trafficking
.