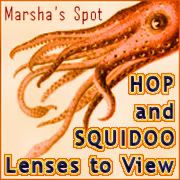 Hello, and welcome fellow Squido Lensmasters! For those who aren't travelling here by
blog hop
and don't know what
Squidoo
is, it's just a place where you can make nifty little web pages about any topic you choose, and maybe earn a little money for yourself or a charity in the process.
Today I want to brag on another lensmaster...my son! He published his first lens last week:
Lego Creations
. Below is his Dragon Hero from the lens, just one of the lego creatures you can find there.
I showed him how to use Squidoo and helped him with spelling and offered a few suggestions (and added just a few notes from me so that people would know this is HIS lens, not MINE...since it's on my account). But all the content is his and his alone.
It was so much fun working with him on this, and this process...helping him make this lens, gave me a whole new viewpoint of Squidoo. I never thought about just how many steps there is to adding a video, if you're making a video yourself (filming it, adding it to a video site, all the tagging and description, then putting it on Squidoo and describing it some more.
I had him pick out a charity to support for his lens, and the charity he picked was DoSomething.org. He liked that it was something that helped kids to be able to make a difference. He picked Aqua for his theme because "this is a website for kids and I think kids would like that better."
When we went on to publish he noticed the green bar on the top of the sidebar and asked me about it...and that led him to add a longer intro...which was not an easy task...especially since he was doing the typing himself (I'd forgotten how slow hunting and pecking went). I found myself explaining what "keywords" were and we worked on adding some.
I hope you'll
stop by his lens
and give him a friendly comment if you have the time. I know he'll be thrilled.