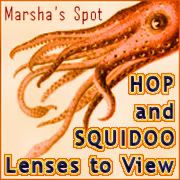 Hello, and welcome fellow Squido Lensmasters! For those who aren't travelling here by
blog hop
and don't know what
Squidoo
is, it's just a place where you can make nifty little web pages about any topic you choose, and maybe earn a little money for yourself or a charity in the process.
I have a new lens to share this week! My
Color Match Lens
is about how to use the Zazzle customization feature to change artwork to match your decor.
I'm also in the process of updating my
Scribbleprints lens
(got it out of the pink - horay!). I've added a section explaining my scribble style of art, and plan to add a short bio...but I'd love more suggestions of how I can improve this lens.
In other news, a lens I had nominated for lens of the day,
Theater Set Questions Answered
, actually GOT lens of the day this last week!! (Not that I can take credit for that, as there were probably other people that nominated it too...but makes me glad all the same).