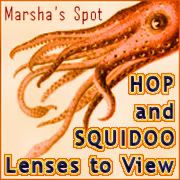 Hello, and welcome fellow Squido Lensmasters! For those who aren't travelling here by
blog hop
and don't know what
Squidoo
is, it's just a place where you can make nifty little web pages about any topic you choose, and maybe earn a little money for yourself or a charity in the process.
This has been a busy and exciting week on Squidoo for me.
Here's the biggest news:
I got my first purple star!!

I bet you can guess which lens...

Nazareth

!
I also made two new lenses this week. I made one on
Vintage Alphabet Posters
and another on
Local Blog Linkies
(Blog Hops and Parties where you can share posts about your home town or other places you've been). I've also updated my
Texas T-Shirts lens
with some shirts about this summer's Texas Heat Wave (it's been in the triple digets all summer here...ug...so ready for fall!).
Thanks everyone who commented last week about the Squidoo Questions linky idea. Everyone was positive but I think I'm going to hold off for now...I've been trying to cut down my time online and adding something else to do just isn't the best idea for me right now. If anyone else wants to take that ball and run with it I'd be happy to play along though.