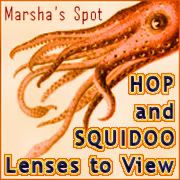 Hello, and welcome fellow Squido Lensmasters! For those who aren't travelling here by
blog hop
and don't know what
Squidoo
is, it's just a place where you can make nifty little web pages about any topic you choose, and maybe earn a little money for yourself or a charity in the process.
My Lens Updates
I found a great YouTube video to ad to my Nazareth Lens, and realized I had only added one of the links about making natural dyes I had found (and meant to add several of them)...so those are added too now.
I found a new POD to ad to POD Reviews...a place that only sells buttons with artist contributed designs. You can find it in this section.
A Few Questions For My Fellow "Squids":
Do you post often post your lenses on
the critique forum
in Squidu? I've found people there can be very helpful.
Which leads to another question. How do you feel about suggestions/critiques of your lenses? I love them, so long as it's polite. I don't always act on the suggestions, but I always appreciate them.