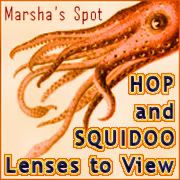 Hello, and welcome fellow Squido Lensmasters! For those who aren't travelling here by
blog hop
and don't know what
Squidoo
is, it's just a place where you can make nifty little web pages about any topic you choose, and maybe earn a little money for yourself or a charity in the process.
NEWS & UPDATES
First bit of news I'm really excited about: Earlier this month Squidoo asked anyone had gotten a
Big Hearted Squid
award for their donations through Squidoo to nominate a charity to receive $100 next month. I nominated Save the Children, and it was one of
the 10 Squid nominees chosen
! Wish I had paid more attention to my grammar because they quoted what I said verbatim, errors and all. (Oops! But thats ok...I'm just happy Save the Children got another hundred!)
In other news this week I had TWO of my lenses reach 100% on Squidoo's little
progress meter
:
Top Blog Giveaway Linkies
and
Print on Demand Shops Reviews
. Yahoo! I've only had one other lens reach 100% and that's my
POD News lens
, which is funny because, though it was a good lens at one time, now it's very outdated. I was going to try to share anytime something new happened (like new products, coupons, etc) on CafePress, Zazzle and a few other PODS...and kept it up for a while, but it just took too much time. All the "news" there is over a year old, except the coupons, which I update via blog...so it's sort of ironic that it was the first one to be considered "complete."
ZAZZLE/CAFEPRESS COUPON FEEDS
Speaking of that, if anyone would like to share Cafepress and Zazzle coupons their squidoo pages, you are welcomed to add the RSS to my sale blogs, which I created primarily as an easier way to share sales on my Squidoo pages. You can add the URLS below to an RSS feed module on your main page or sidebar module...but make sure to set it to show "Excerpt (100 characters)" because otherwise all it will show is asterisks.
For All Types of Product Sales
This is meant for lenses offering various products, and includes sales on specific products as well as general percent off and shipping sales.
CafePress:
http//cafepresssales.blogspot.com/
Zazzle:
http://zazzlesales.blogspot.com/
For General Sales (not product specific)
This only includes includes coupons that apply to all shops, such as free shipping or percent off total order coupons, which makes it a good one to use on a lens related to a specific type of product, as the coupons will always apply. Note that CafePress often excludes Sigg and Thermos products, and Zazzle sometimes excludes Avery products from their sales, but I still choose to include those sales as I wouldn't have much to post otherwise.
CafePress:
http://cpsales.blogspot.com/
Zazzle:
http://zazsales.blogspot.com/
For T-Shirt Coupons Only
This only has coupons related to t-shirts and general sales (percent off total order and shipping discounts).
CafePress:
http://cafepresstshirtsales.blogspot.com/
Zazzle:
http://zazzletshirtsales.blogspot.com/
NOTE ON CAFEPRESS FEEDS:
These only show marketplace sales, as the CafePress module on Squidoo only links to products in the marketplace (regrettably).
If you do add this to any of your lenses, please let me know, and I will try to be more diligent on keeping the coupons updated. Also, if anyone would like to help me update these, it would be nice to have some help with this project (even if only occasionally...to cover me during vacations and such...though regular help would be wonderful). It's easy to do--you can do it by e-mail and update several at once, and I could offer you some free advertising in return.