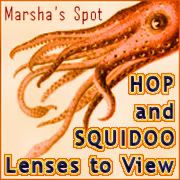 Hello, and welcome fellow Squido Lensmasters! For those who aren't travelling here by
blog hop
and don't know what
Squidoo
is, it's just a place where you can make nifty little web pages about any topic you choose, and maybe earn a little money for yourself or a charity in the process.
Well, Squidoo has been going through some changes and lots of lenses have been flagged, mostly for being "too commercial." And we have to fix them by March 31st or they'll be unpublished.

Several of my lenses were flagged and I've been scrambling like crazy to fix them. How about you?
Here's some things I've learned along the way...
FIXING YOUR PAGE
I read

on a blog post by Virginia Allain

that as a "rough guideline, that Google wanted to see at least 500 words throughout a page if it had 10 products on it." I don't know that they are actually

requiring

that many though. On my CafePress lens it only took a couple lines of code per module to get it greenlighted. The lens with a lot of Zazzle products seemed to take a couple lines per product. Amazon modules may require a different amount. Not sure. There's some other great suggestions on this Fanfreleche Blog (such as combining two thin pages on similar subjects into one "thicker" one).
MOVING YOUR PAGE
If you decide to move your content to another platform in stead of trying to adjust it to the new rules, here's some tips.
While there is a nifty button to save your lens text to your computer, but IT DOESN'T SAVE INFO IN SOME MODULES, like the CafePress Module. Your products and links to those product may be lost. But you can easily save all your links and products on blogger. Even if you want to put this content somewhere other than blogger eventually, this will allow you to get all the code to the links, which you can then transfer to it's final destination.
1. First, go to blogger and start a new post or page--make sure you are in the "compose" editor, not the HTML editor.
1. Go to the page you want to copy. Highlight the content from each module from your Squidoo workshop you want to move and press CTR+C (or whatever you use to copy text on your browser/operating system). Paste into your blogger post.
4. VERY IMPORTANT. Since I'm pretty sure having Squidoo affiliate links on your blog or anywhere other than Squidoo will get you in major trouble, you will need to switch into the HTML tab in your editor and remove all the affiliate info from CafePress, Amazon, and other Squidoo money making module links (you can then replace with your own affiliate codes)

. I've shown how to do that for CafePress modules in more detail further down on this page. If you don't have time to fix the affiliate code right away, though, you can always save the in stead of publishing the post, and work on it later.
If you are part of the CafePress or Amazon affiliate program, it shouldn't be a problem using their product images since they are remote linked on Squidoo from CafePress/Amazon. Be careful not to grab any Squidoo graphics. There may be copyright issues with the layout also...but I'm honestly not sure.
BEFORE DELETING YOUR SQUIDOO PAGE...make sure to check your stats for the last 90 days to see who's linking to you, so you can notify them of where your new page will be.
HOW TO REMOVE/REPLACE THE REFERRAL CODE FROM CAFEPRESS PRODUCTS
1. There are four URLS you will need to replace code in for each product in the CafePress Module. To find these use your browser's find function (usually CTRL+F) to find www.cafepress.com --you will need to change parts of this URL and some code directly befor it. Below is an example of the first instance of that code from one of my lenses. I've highlighted the parts that need to be deleted or changed.
<a href="
http://www.qksrv.net/click-3123248-10463747?URL=
http://www.cafepress.com/+texas_womens_plus_size_vneck_dark_tshirt,581771619
&SID=texastees
" rel="nofollow" style="color: #752502; text-decoration: none;" target="_blank">
You will need to remove the part listed in red (everything between the a
href="
and the
http://www.cafepress.com
...) . The part highlighted in green you need to replace with
?aid=your own affilliate code
. (For example, I would replace the green text above with ?aid=823456 because 823456 is my CafePress affiliate code).
You can sign up for the CafePress affiliate program here.
I find grabbing the HTML from blogger, moving it to a notepad, and using the "search/replace" function makes this process faster.