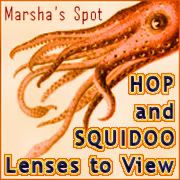 Hello, and welcome fellow Squido Lensmasters! For those who aren't travelling here by
blog hop
and don't know what
Squidoo
is, it's just a place where you can make nifty little web pages about any topic you choose, and maybe earn a little money for yourself or a charity in the process.
Haven't had much time to work on Squidoo this week...though I do have a fun piece of news. My
Nazareth Lens
was nominated for Lens of the Day by Gracieonline, and after seeing the
other lenses she had nominated
, wow...I feel really honored.
And I have another question for you all.
Last week
when I asked my questions
Ruthi
suggested I turn it into a linky, asking different questions about Squidoo each week that we could answer on our blogs. I've thought this over and if I did it I think I would want to only do it once a month, both to give me a chance to think up better questions, and so as not to overlap too much with Martha's hop. And I only want to do it if people are really interested in it. So, what do you think of the idea of a monthly linky where you could answer Squidoo related questions on your blog? I really want honest oppinions...because if people feel that would be too much on top of already doing the blog hop then I don't think I'll do it. But if people seem interested I might.