Here's some fun free things you can do to help our environment.
If you have a website or blog, you can head over to
Brighter Planet
, grab one of their buttons (like the one below), fill out their form to let them know, and they will offset 350 pounds of carbon in your name. That's like flicking off 100 lightbulbs for a day, or going two full weeks without your car!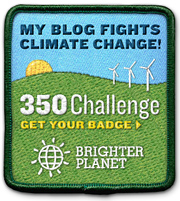 No blog? No problem. Here are 15 places you can go where they will make a small donation (a few cents) for ever person who clicks on a certain link on their site:

Care 2 - Stop Global Warming
Care 2 - Save the Rainforest, Marine Wetland, and American Prairie
Care 2 - Save Baby Seals
Care 2 - Save Our Oceans
Care 2 - Save the Big Cats
Care 2 - Save the Primates
The Rainforest Site
Red Jelly Fish
The Ecology Fund
Race for the Rainforest
Land Care Niagara
The Environment Site
Oaks of the World
Save Forest (not in English)
Die Waldseite (not in English)

How it works is advertisers pay a few cents every time their ad is viewed, and these sites donate that money to environmental charities. There are also sites like this for other types of charity.
Click Here to Learn More
Now, I'm not personally giving away anything on this post (like usual). This is more about giving back. But there is a nice giveaway going on at Madsen for a free bike (and biking in stead of driving is another good way to help the environment)! If you have a blog (or website or myspace or twitter or whatever) you can enter to win by putting up a link or button like the one below. (Click it to learn more)
Or if you don't have a blog, website, etc...you can also enter to win one over at
Focus Organic
...and they have a a lot of other
great green giveaways
going on right now, too.
Happy Earth Day Everyone!